Exclusive to  The Wine Society
Butch and the Sunrise Kid


Technical Information:
Producer:
De Morgenzon/Alheit Vineyards
The Wine:
63% Chenin Blanc
15% Roussanne
15% Chardonnay
7% Viognier
Vintage:
2013
Wine of Origin:
Western Cape
Alcohol:
14%
Bottles:
527 cases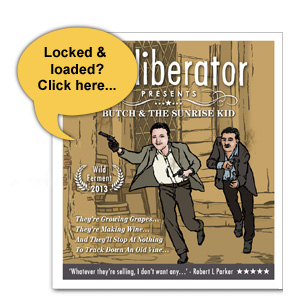 'Whatever they're selling, I don't want any…' Robert L Parker
One afternoon last August, Rick found himself in the cellar of Chris 'Butch' Alheit, tasting his way through some barrel components of a future release.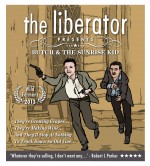 'This new Cartology blend is looking really tidy, but those eight barrels over there are giving me serious grief, man. The wine's spot on but nothing seems to fit'.
The comment breaks Rick's concentration. He looks up from tasting glass and mutters to himself…
'Nothing seems to fit. Isn't that a line from a song? Hmmm – BJ Thomas – circa 1969 – well before he was even born…'
'So, Rick any ideas as to what to do with this redundant Chenin…? I paid a fortune for those grapes and now it's going to be worth stuff-all on the bulk market…'
Not one to miss a trick, our plucky Cape crusader is already hatching a plan and, with a sample blend rolling around on the back seat of his hire car, he beats a hasty retreat down the Hemel-en-Aarde valley…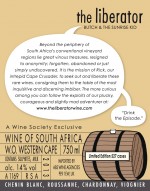 Back in Stellenbosch, Rick heads directly to De Morgenzon where he knows he can find just what he's looking for. A day or two earlier, he'd already tasted a few component parts that could potentially help elevate Butch's old vine Chenin into something worthy of Liberating.
Enter Carl van der Merwe, known to some (and here for blatant commercial gain) as the Sunrise Kid.  He's busy in the cellar, putting the finishing touches to the next vintage of his notable white blend.
'Hey, Sunrise, take a look at this. Let's see if you and Butch can earn your spurs on this one – and I've already come up with the title…'
The simple solution would have been to find an additional parcel of interesting Chenin to play around with but, as our story suggests, what happens instead might best be described by our two young gun winemakers as a bit of, hmmm, creative blending…
Incidentally – just in case you were wondering about the credit on the front label – attributed to one Robert L (for Louis) Parker; this was Butch Cassidy's real name, and any connection to a certain Robert M. Parker of Monkton, Maryland is purely coincidental…
Afrikaans Lesson #185:
De Morgenzon – The Morning Sun. The name granted to the farm by Governor Willem Adriaan van der Stel in 1699. Such is the altitude and the orientation, De Morgenzon is the first property in Stellenboschkloof to benefit from the early morning rays.
Afrikaans Lesson #15:
Howzit – General greeting, widely used.
Afrikaans Lesson #276:
Witblits – White spirit (mostly illegal) distilled in the wilds of the Karoo and more often rougher than a goat's knee.
Afrikaans Lesson #361:
Dop – Refers to a single drink, invariably alcoholic, but could refer to wine, beer or a spirit. The size of the measure remains unrecorded.
Afrikaans Lesson #174:
Oke – Pronounced oak. Slang for a bloke, most likely unknown. As in 'What does that oke think he's doing…?'