Exclusive to The Wine Society
Blood Brothers 'Blue'


Technical Information:
Producer:
De Morgenzon
The Wine:
59% Merlot
26% Cabernet Sauvignon
6% Cabernet Franc
5% Petit Verdot
4% Malbec
Vintage:
2012
Wine of Origin:
Stellenbosch
Alcohol:
14%
Bottles:
9,900 bottles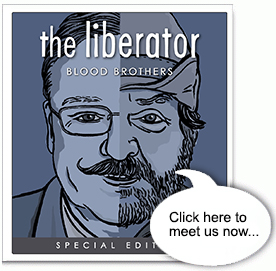 Blood looks like red wine, but it doesn't go as well with cheese. – Jarod Kintz
Blood brothers they might be, but these are not identical twins… Unlike the protagonists in Willy Russell's 1983 musical of the same name, our very own Eddie and Mickey don't even share the same vintage. Born a year apart and separated early in life, their identities are characterised by the difference in age – but not necessarily in their state of maturity…
Like in the musical, Mickey is blue blood. The privileged brother afforded a university education. All black tie, a former journalist -for The Times, of course – he's a true blue Conservative..
The blue of the label here is in deference to the aquamarine influence of De Morgenzon's cooler, more maritime vineyard sites. Facing south to the ocean, one can almost taste the salinity of the soil in the resulting wine. But here, unlike in our traditional Bordeaux benchmarks, big corporate enterprise has yet to consume the Cape, so thankfully this rather splendid example retains a more than a degree of soul.