Exclusive to The Wine Society
Napoleon Bona Part Five


Technical Information:
Producer:
Nederburg
The Wine:
Noble Late Harvest
64% Muscat de Frontignan
36% Chenin Blanc
Vintage:
2019
Wine of Origin:
Western Cape
Alcohol:
10%
Bottles:
3,000 half bottles
Released:
February 2021

Napoleon Bona Part Five is a sweet wine, produced from Muscat de Frontignan and Chenin Blanc grapes, very much in the classic Constantia style.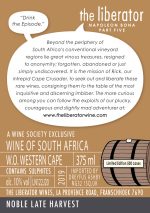 The inspiration for the title comes from the fact that Napoleon, during his five-year exile on Saint Helena found solace in consuming a bottle of Constantia a day. Documents dated October 1816 through to 30 June 1817, titled "Statement of the wines supplied for General Bonaparte's Establishment", shows that the three-monthly tally was around 90 bottles. The emperor kept this cache for his exclusive enjoyment and is believed to have asked for a glass shortly before he died.
The wine comes from Nederberg, a very distinguished address for sweet wines. The winemaker, Günter Brözel, who arrived from Germany in 1956, dedicated himself to building up a broad spectrum of wines, made at a remarkably high level of quality and consistency.
.