Exclusive to The Wine Society
The Good, the Bad and the Sangiovese


Technical Information:
Producer:
Nederburg
The Wine:
78% Sangiovese
15% Barbera
7% Nebbiolo
Vintage:
2003
Wine of Origin:
Western Cape
Alcohol:
12,5%
Bottles:
557 cases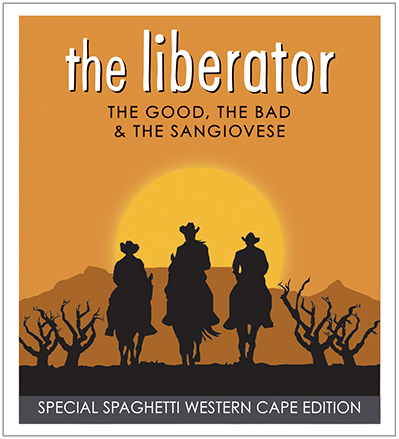 Welcome to The Cape Crusader's beginner's guide to…
Spaghetti Western Cape Wines
Start reading here if you are new to this genre and find yourself confused by the overwhelming number of unfamiliar Italian grape varieties on offer.
Spaghetti Western Cape Wines were born in the first half of the sixties and continued until the second half of the noughties.   This term designated wines, often produced by Italians in collaboration with other European winemakers, notably from Romania and Germany. It was originally christened by purist, foreign wine critics who thought the wines were inferior to their Tuscan and Piedmontese equivalents. Most were low budget affairs, but still managed to retain authenticity, despite not receiving much recognition, even in the Cape.
During the eighties, however, the reputation of the genre grew and today it is no longer referred to disparagingly, although some South African winemakers still refuse to accept it existed.
It's often believed that the genre arose in response to the enormous success of Giorgio Dalla Cia's A Fistful of Dolcetto (vintage 1964), an adaptation of a Japanese Samurai sake called Yojimbo (1961).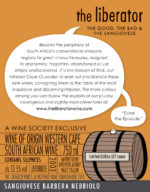 It was Dalla Cia who defined the category with that first release, along with two more that were to follow: For a Few Dolcetto's More (1965) and latterly, this notable example: The Good, The Bad and the Sangiovese (2003). These three wines are collectively known as The Dolcetto Trilogy even if, ironically, there is no Dolcetto planted in the Cape.
Dalla Cia's Spaghetti Western Cape was a dusty wasteland of whitewashed Cape Dutch dwellings, howling northwesters, scraggy cellar dogs and cynical heroes who were as unshaven as the perceived villains……not much has changed.
Given a mixed reception on release, the wine's epic amorality ensures that The Good, the Bad and the Sangiovese became the definitive Spaghetti Western Cape Wine of the period.
Rick says be sure you get a fistful, whilst you still can…