Episode 6 – Doctor Melck and the Spiders from SARS


Technical Information:
Producer:
Muratie
(with a little help from DeMorgenzon)
The Wine:
46% Chenin Blanc
23% Sauvignon Blanc
19% Verdelho
8% Viognier
4% Semillon
Vintage:
2014
Wine of Origin:
Stellenbosch
Alcohol:
14%
Bottles:
620 cases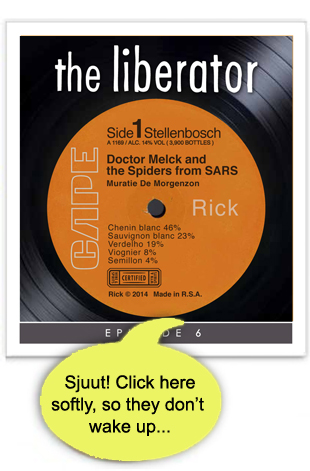 Rick was never a glam rock fan, but the inspiration for the title of Episode Six comes from David Bowie's seminal album, released in June 1972, The Rise and Fall of Ziggy Stardust and the Spiders from Mars.
On the hunt for some new wines to liberate, Rick received an email from Rijk Melck inviting him up to Muratie on his next excursion to the Winelands. Dr Melck had been Rick's GP when he lived in the Cape a few years back, but had since given up his Stellenbosch practice in order to return to the family wine farm after the death of his father; the late, great Ronnie Melck.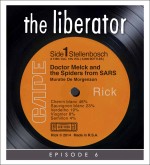 Passing through the cellar door at Muratie is like stepping back in time. It' a warren of small rooms and tiny passageways filled with old concrete tanks that now lay idle. The place has not seen a duster in decades and is a paradise for the spiders who spin their webs here. Visitors flock to Muratie as much to admire the quaintness of this historic property and marvel at the immense network of cobwebs as to taste the farms eclectic range of wines.
Fitting with the bohemian nature of the place, Rijk appears suitably attired, sporting long hair, a far cry from the white-coated existence of his previous life, the scalpel having been replaced with secateurs.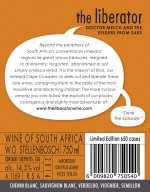 The wine that Rijk is anxious to introduce Rick to is a Cape White Blend; an erogenous mix of five varieties cleverly combined to produce a stunningly well-balanced wine, full of richness, complexity and texture.
But the volume made is too great to contemplate selling it all from the farm. Plus, he has another spider to feed. The money spider. SARS – aka the South African Revenue Service – the taxman. He needs to turn wine into cash quickly and the Caped Crusader is his one solution.
The wine was liberated in bulk and bottled at DeMorgezon in July 2015, the blend being tweaked slightly under the guidance of cellarmaster Carl van der Merwe.
So, there you have it. Doctor Melck and the Spiders from SARS. A tenuous link, perhaps, but a great wine all the same. I wonder what it'll be like in Five Years…