Episode 42 – Midnight Bakkie Rides Again
(aka 'The Return of Pixel Face')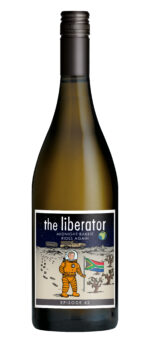 Technical Information:
| | |
| --- | --- |
| Producer: | Alheit Vineyards |
| The Wine: | Chenin Blanc |
| Vintage: | 2022 |
| Wine of Origin: | Western Cape |
| Alcohol: | 13% |
| Bottles: | 875 cases |
| Released: | October 2023 |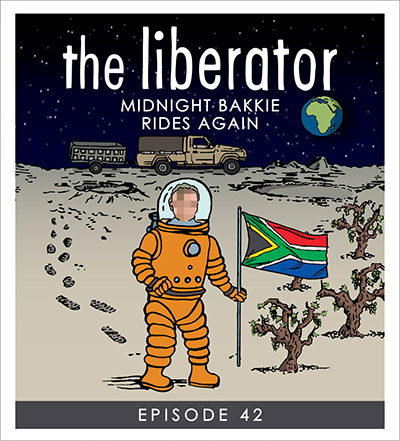 Feet they hardly touch the ground
Walking on the moon
My feet don't hardly make no sound
Walking on, walking on the moon…
Ever been to the Skurfberg?
Few people have. Its remoteness and altitude suggest that one might as well be harvesting grapes on the surface of the moon.
No less than a five-hour drive from relative civilisation and six hours back (in order to 'protect the integrity of the fruit'), it takes numerous round trips to pick these low-yielding, old vine chenin grapes. And this is just one of the extreme sites where our winemaking protagonist harvests fruit from, only to end up as a bi-product of his own highly regarded, and equally highly sought-after wines…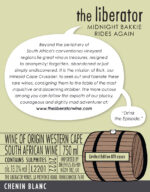 The 'return of midnight bakkie' suggests a follow up to an earlier Liberator release. It is, although previously, our winemaker had demanded complete anonymity, his face pixelated to hide his true identity. This time, however, his cover has been completely blown…
The winter of 2021 was wet, and our pixel-faced winemaker didn't factor for the potential increase in the crop sourced from his carefully selected vineyards. Historically, having purchased grapes by the hectare (rather than conventionally by the tonne), our boy-wonder was caught on the hop. To many grapes means too much wine in the cellar.
Flavour-wise, the grapes were perfect but, with almost twice as much fruit as expected, the concentration these vineyards usually deliver was not quite there. Conceding that not all the resulting wine was ever going to make the cut for his grand vin, he knew he needed to maak 'n plan…
So, whilst we are experiencing a shortfall in the overall production of wines under the Alheit Vineyards label for this next campaign, followers of the Liberator are only set to benefit from the component parts that failed to make the grade.
Rick has already proclaimed the result to be virtually extra-terrestrial…
Afrikaans Lesson #53:
Bakkie: A pick-up truck.
Afrikaans Lesson #1:
Maak 'n plan: The first lesson to be learned in Afrikaans language: to make a plan…