Episode 39 – One Thousand And One Kilograms


Technical Information:
| | |
| --- | --- |
| Producer: | Strydom Vineyards |
| The Wine: | Cinsault |
| Vintage: | 2022 |
| Wine of Origin: | Stellenbosch |
| Alcohol: | 13% |
| Bottles: | 672 bottles |
| Released: | August 2023 |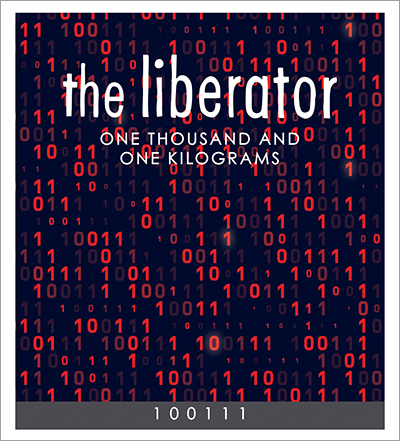 Episode 39 is a parcel of young vine Cinsault presented to Rick as an unlabelled if bottled wine in March 2023 by Rianie Strydom, planted on the family homestead in Stellenbosch.
It's the first ever monovarietal Cinsault to be released by The Liberator.
Before we go further, Rick would like to offer a little historical context: Cinsault is of great importance to the history of winemaking in the Cape. It has been a feature within the Winelands since the middle of the 19th century, where it was once known colloquially as 'Hermitage', not that anyone really knows why… That all ended in 1935 when a trade agreement with the French terminated the name being used in vain.
At one stage, it was the Cape's most widely grown variety (approaching 30% of the total vineyard plantings) and used to produce everything from heavily branded sweet rosés, through to dry red table wines (where it was often used to stretch limited supplies of Cabernet Sauvignon) and even as a base for fortification. It was also a common base wine for distilling into brandy.
As a copious bearer, it is easy to understand its popularity with producers during a period when volume was a greater consideration than quality. The grape's main claim to fame (or notoriety) is its role as a parent, along with Pinot Noir, in the creation of Pinotage.
The variety finally fell out of favour in the 1960s and now accounts for less than 2% of total vineyard plantings. Even though Cinsault (or Cinsaut as it is also known in the Cape) may have come back into favour with the 'new wave' generation of winemakers, it's still rare to find anyone reintroducing the variety.
Back to the story. In presenting the wine to our protagonist, Rianie explained that the 2022 vintage was the first crop to be taken off the vineyard. Given their youth, the vines had not yet come into full bearing and, in fact, the whole parcel had only yielded 'one thousand and one kilos…' in total.
Rianie, without even realising it, had just handed Rick the title for Episode 39…
Despite the fact of only two barrels being produced, Rianie had decided to go ahead and bottle the wine, even though with such a small volume she couldn't ever consider adding it to her existing Strydom Vineyard range. So, having already been responsible for two previous Liberator releases, she decided to offer the wine up as a possible candidate for liberation.
The label design reflects the numerical notation of the title, with 100111 being the binary number for 39… Clever, eh…? Sometimes Rick is too clever for his own good…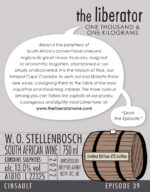 Whilst most amateurs of wine might consider Cinsault to be a second-class citizen in the wider world of grape varieties and only suitable as a component to stretch a commercial blend, or just simply responsible for early drinking braai-side quaffing, Episode 39 should be considered to be the antithesis of this.
If anything, Rick is asking, nay pleading, that Liberator followers allow the wine to age for a good year or two in the bottle before it is breached, although he suspects that with only 672 bottles in circulation, few examples will ever make it to true adulthood.
Let's see who is patient enough to reap the reward…