Episode 33.3 – Born Under a Bad Sign


Technical Information:
Producer:
Glen Carlou
The Wine:
85% Pinotage
15% Cabernet Sauvignon
Vintage:
2020
Wine of Origin:
Coastal Region
Alcohol:
14.5%
Bottles:
1,500 bottles
Released:
September 2021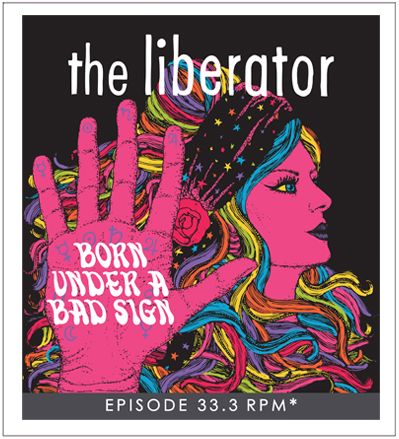 Shock-Horror: Rick has finally succumbed. It's the first ever Liberator Pinotage release…
Born under a bad sign, been down since I began to crawl
If it wasn't for bad luck, I wouldn't have no luck at all…
The title, inspired by the classic blues song, first recorded in 1967 by Albert King, with its topical astrological reference, fits the wine and label perfectly.
Once infamously described by one winemaker in the Cape as 'The bastard son of Pinot Noir', Pinotage rarely gets a good press – even within a nation which somewhat naively considers it South Africa's 'signature' variety.
One can imagine the brief given to Abraham Izak Perold who perfected the crossing of Pinot Noir and Cinsault in 1924: 'Professor, we want you to create a uniquely South African grape variety that has all the nobility of Pinot Noir but the high-yielding potential of Cinsault'. Pinotage is what they got.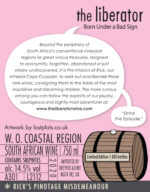 In 1917 Abraham became the first Professor of Viticulture and Oenicology at Stellenbosch University, where he began his scientific examination of vines and researched into their origins and best growing conditions. From 1927 onwards, he served as chief wine advisor for the KWV. It was before he left to take up this position that Abraham planted four seeds from a crossing of Pinot Noir and Cinsault in the garden of his official residence at Welgevallen. He then appears to have (conveniently?) forgotten about them. With his departure, the garden became overgrown, and a team of workers was sent in to tidy it up. Fortuitously, a young lecturer, Charlie Niehaus, who knew a thing or two about seedlings, just happened to be passing by at the time and decided to rescue them from the clean-up team.
The first ever Pinotage was made in 1941 (incidentally, the same year as Abraham Perold died) at Elsenburg College in Stellenbosch. Recognition came when a wine made from Pinotage at the Bellevue Estate in Stellenbosch became the champion wine at the Cape Wine Show of 1959. This wine would become the first to mention Pinotage on its label when, in 1961, Stellenbosch Farmer's Winery (SFW) marketed it under their Lanzerac brand. This early success, and its reputation for easy propagation, prompted a wave of planting during the 1960s.
Often wrongly referred to as a hybrid (it is in fact a viticultural cross between two vitis vinifera grapes), Pinotage has not escaped criticism. Today, Pinotage accounts for around 7% of the Cape's vineyards.
I can't read, haven't learned how to write
My whole life has been one big fight
Born under a bad sign
I been down since I begin to crawl
If it wasn't for bad luck
I say I wouldn't have no luck at all
Label design: courtesy of Lisa Robson @lostplots