Episode 26 – Sleeping Beauty

Technical Information:
| | |
| --- | --- |
| Producer: | De Morgenzon |
| The Wine: | Semillon |
| Vintage: | 2018 |
| Wine of Origin: | Stellenbosch |
| Alcohol: | 14% |
| Bottles: | 270 bottles |
| Released: | August 2020 |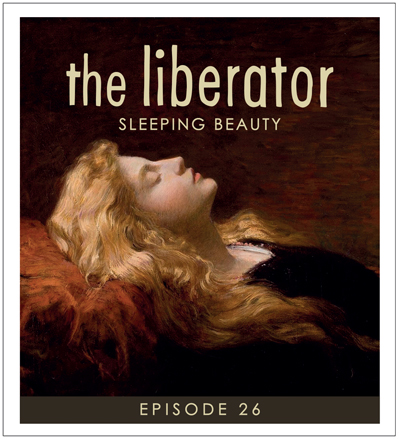 Episode 26 represents a single 225 litre barrique of wine and the most confidential Liberator release to date.
The title refers to Semillon's tendency towards being somewhat fat, awkward and slovenly in its youth.  It was once described by Jancis Robinson as resembling an 'overweight schoolgirl', only to be transformed by patient slumber into a thing of real beauty.
Although the grapes were sourced from Stellenzicht, the wine itself was made by Carl van der Merwe on the 'other' side of Stellenbosch at De Morgenzon. The vineyard came to the attention of a wider audience after a certain 31-year-old Andre van Rensburg, 'bespectacled, tousle-haired, informal, and a man possessed,' (wrote Platter in the 1997 edition), started at Stellenzicht in late 1993. During his four-vintage tenure on the farm, Andre was responsible for some of the greatest examples of Cape wine made during that decade, notably his 1994 Stellenzicht Syrah and, somewhat less lauded, his trio of Semillon vintages.
Previously Semillon had only been used as a smaller component in the Grand Vin Blanc blend and combined with Riesling and Sauvignon in a Noble Late Harvest.  The single varietal Semillon first appeared from the 1995 vintage and was already winning Gold Medals at Veritas. The last of the trilogy was awarded the Trophy for Best South African White at the 1998 International Wine and Spirit Competition in London.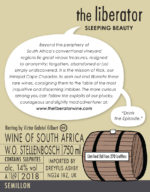 Followers of The Liberator will already know that Rick and Andre struck-up an unlikely friendship when our Cape Crusader moved to South Africa in 1995 and spent many a boozy evening at Stellenzicht. It was (and still is) an ambition of Andre's to make Semillon a 'mainline wine'. Unfortunately, after he left to start his 21 years (and counting) at Vergelegen, no one at Stellenzicht has been able to emulate what Andre achieved during those three vintages.
So, it was with some sadness that Rick was to learn from Carl that the grapes bought from the new regime at Stellenzicht were the very last, as the vineyard was subsequently grubbed up in the winter of 2018.
As good and as rare as the wine is, Sleeping Beauty is as much an emotional release. The Semillon vineyard its trio of exceptional vintages made by Andre hold some special memories for Rick.
It seemed appropriate to adorn the label with an eponymously named painting by the French artist, Victor Gabriel Gilbert (1847-1933).
Sleeping Beauty. A beautiful wine from a beautiful vineyard. Long may she rest.