Episode 25 Revisited – It's Been Another Good Year For The Roses


Technical Information:
| | |
| --- | --- |
| Producer: | Diemerskraal |
| The Wine: | Certified Old Vine Cinsault Rosé |
| Vintage: | 2021 |
| Wine of Origin: | Paarl |
| Alcohol: | 12% |
| Bottles: | 400 bottles |
| Released: | August 2021 |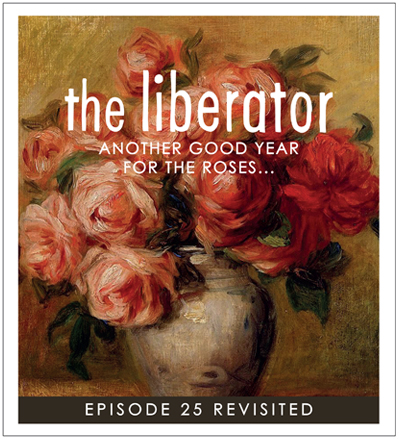 It's been a good year for the roses
Many blooms still linger there
The lawn could stand another mowin'
Funny, I don't even care
When you turned and walked away
And as the door behind you closes
The only thing I know to say
It's been a good year for the roses
Episode 25 takes its inspiration from A Good Year for the Roses, a ballad written by Jerry Chesnut and originally recorded by American country singer, George Jones in 1970. Fans of previous Liberator releases are more likely to resonate with the Elvis Costello version that made number 6 in the UK Singles Chart in 1981.
The wine, a re-release of the first ever Liberator Rosé, and remains one of Rick's most confidential releases to date.
It is made from Cinsault sourced from Otterkuil, a wheat, cattle and sheep farm (who also happen to supply grapes to the local Windmeul winery), located on the Durbanville Road in Agter-Paarl.
The vineyard itself was planted in 1954 and is a Certified Heritage Vineyard bearing the stamp of South Africa's new Old Vine Project.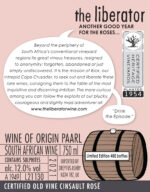 The grapes were delivered as usual to Windmeul, where the winery drew off 100 litres per tonne to 'improve' the colour and concentration of the large Cinsault berries, which are used for making their red wine.
Rather than allowing it to be consigned to the drain, one smart-thinking individual 'adopted' the juice and transported it to Diemerskraal, (another farm that supplies grapes to Windmeul), where it was fermented to dryness in a small stainless steel tank.
Our label design for Episode 25 comes courtesy of one Auguste Renoir, a leading artist in the development of the Impressionist style.
The only thing Rick has left to say: It's been another good year for the roses…
***
I can hardly bear the sight of lipstick
On the cigarettes there in the ashtray
Lyin' cold the way you left them
But at least your lips caressed them while you packed
And a lip print on a half-filled cup of coffee that you poured and didn't drink
But at least you thought you wanted it, that's so much more than I can say for me
It's been a good year for the roses
Many blooms still linger there
The lawn could stand another mowin'
Funny, I don't even care
When you turned and walked away
And as the door behind you closes
The only thing I know to say
It's been a good year for the roses…