Episode 24 – Four-and-Twenty Blackbirds


Technical Information:
| | |
| --- | --- |
| Producer: | Nederburg |
| The Wine: | Merlot |
| Vintage: | 2009 |
| Wine of Origin: | Groenekloof Darling |
| Alcohol: | 14.5% |
| Bottles: | 1200 bottles |
| Released: | August 2020 |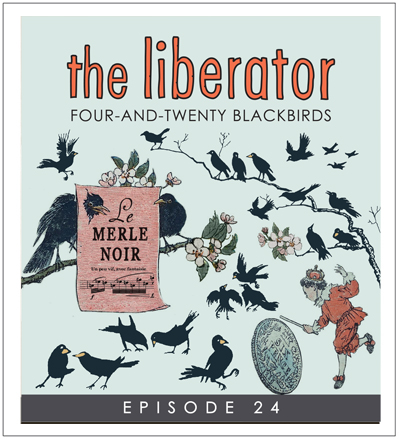 Sing a song of sixpence
A pocket full of rye
Four and twenty blackbirds
Baked in a pie…
Rick has a very soft spot for blackbirds. Even from having this nursery rhyme recited to him as a child, he always managed to convince himself that the said 'blackbirds' were, in fact, crows or rooks, which are still considered vermin by some today, and shot for the pot.
It happens to be one of those bizarre Liberator coincidences that Episode 24 should coincide with the title. Allow Rick to explain….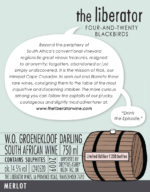 Merlau in Occitan or Le Merle noir is French for blackbird.
Merlau… (Merlot) makes a black and excellent wine and is productive in a good soil.
The modern spelling first appeared in 1824 in a thesis on Médoc wines, whilst the reference work La Vigne en Bordelais (published in 1868) cites two examples of the origin of the name. Merlau means 'little blackbird' in Bordeaux patois, and it is the Merlot grape that the bird guzzles first. The colour of the feathers also resembles that of the berries.
Featured discretely on the label is the original score for Le Merle noir, a chamber work by the French composer, Olivier Messiaen. A short piece for flute and piano, it was written and first performed in 1952. Apparently, Messiaen had a consuming and lifelong interest in ornithology, just like Rick…
Interviewed on Radio 2 in 1996, Kate Bush was asked who her favourite singer was. She answered 'The blackbird…' You'll find the cover of her 2005 album, Ariel, features a waveform of blackbird song.
In contrast, Sing a Song of Sixpence was apparently a coded message used by the legendary pirate captain, Blackbeard as a cry for new recruits. Sixpence and a flask of rye whisky were a pirate's weekly wage. The 'blackbirds' were his pirates and the ship was the 'pie'…
Sing a song of sixpence,
A pocket full of rye,
Four and twenty blackbirds
Baked in a pie.
When the pie was opened
The birds began to sing—
Wasn't that a dainty dish
To set before the king?
The king was in the counting-house
Counting out his money,
The queen was in the parlour
Eating bread and honey,
The maid was in the garden
Hanging out the clothes.
Along came a blackbird
And snipped off her nose.