Episode 22 – Blood and Chocolate


Technical Information:
Producer:
Nederburg
The Wine:
60% Shiraz
40% Cabernet Sauvignon
Vintage:
2003
Wine of Origin:
Western Cape
Alcohol:
13.5%
Bottles:
372 cases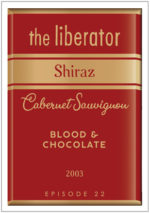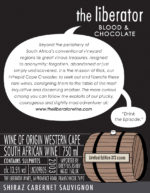 Blood and chocolate
I hope you're satisfied what you have done
You think it`s over now
But we've only just begun
I asked for water
And they gave me rosé wine…
Rick's a long-standing Elvis fan. That's Elvis Costello, of course.
The title for Episode 22 is inspired by Costello's 1986 album and his greatest work to date. It's an album bursting with anger, full of frustration and resentment, delivered with passion. His songs are about obsessive love and infidelity; nowhere more potently than in the track I want You.
In empathy with The Beatles song of the same name, it's a depiction of possession and desire, which makes Every Breath You Take sound like the portrait of a healthy relationship. Costello sounds like a man on the verge of murder. If you don't know I Want You, you should, but, be warned, this is not a song to play alone with the lights off.
No one can tell Rick why this wine – originally destined to be released as an exclusive 'Private Bin' – at a previous Nederburg Auction – didn't make it to the sale.  For the Cape, this is a mature and unusual blend of Cabernet Sauvignon (the blood) and Shiraz (the chocolate). A chance meeting with the new winemaker at Nederburg led to the cellar opening its doors for the Cape Crusader to liberate this Episode along with a selection of other rare gems.
Uncomplicated. Certainly not.