Episode 13 – Terroir By Truck


Technical Information:
Producer:
Solms Delta
The Wine:
Grenache
Cinsault
Syrah
Vintage:
2015
Wine of Origin:
Western Cape
Alcohol:
14.0%
Bottles:
2016 bottles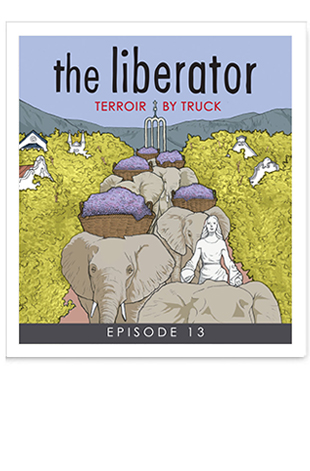 Terroir by Truck takes on the elephant in the room to expose all those life-style cellars in Franschhoek which elect to import their grapes from other region to compensate for the lack of viable or interesting viticultural sites within the confines of this narrow valley.
The elephants on the label are in respect of the historic name of Olifantshoek, so called because it used to be on the animal's migration route. Records suggest that the last elephant walked out of the valley in 1850, presumably disgusted at the increasing property prices.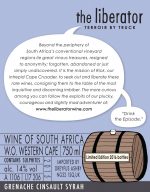 True to type, Terroir by Truck comes from one such cellar that buys in a huge amount of grapes to satisfy its needs. In this example, the Grenache is from Piekenierskloof and the Syrah hails from the Swartland. The Cinsault, at least, is from fruit grown in the appellation.
The wine was presented to Rick at the cellar in May 2017. Still mostly in its component parts, it took a little bit of liberator magic to amalgamate the final blend.
No elephants were harmed in the creation of this label.