Episode 10 – Midnight at the Lost and Found


Technical Information:
| | |
| --- | --- |
| Producer: | Lemberg |
| The Wine: | 100% Pinot Noir |
| Vintage: | 2013 |
| Wine of Origin: | Tulbagh |
| Alcohol: | 13% |
| Bottles: | 1344 bottles |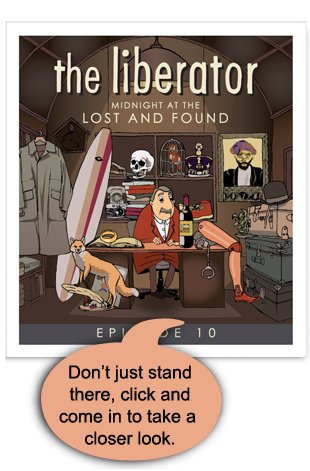 Hey Ricky, now mine is empty, how about one for you?
We could sell it out together, seems tomorrow's overdue
Midnight at the Lost and Found – Meatloaf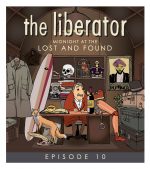 It was May 2016 when Rick received a tip-off about this one.
'There's something sitting in a cellar in Tulbagh you may want to go and have a look at' said his old chum, André van Rensburg. 'It's lost and looking for a home…' So, with little hesitation, Rick jumped in his trusty Toyota Corroded hire car and went off to investigate.
Interestingly, Rick had been to Lemberg in 2013 – the year this Pinot Noir was made – to catch-up with David Sadie who was making his own David wines in the cellar there. The then rising star was consulting for Lemberg at the time and it was David himself who vinified this on behalf of owner, Henk de Bruyn. He considered it as his 'rent' for utilising the cellar for his own ends.
Now, Tulbagh is not the logical place to go looking for Pinot Noir, the climate being generally too hot for this fragile variety. Rick thought it more likely that he'd be impressed with Lemberg's rare Hàrslevelú, from which this small farm had historically made its name.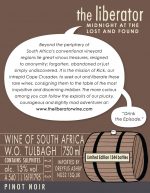 But no, sitting there in a corner of the cellar were two pallets of unlabelled Pinot Noir that had been gathering dust for the last two seasons. Rick just had to taste it…
Knowing a bit of the history and instantly recognising David Sadie's hand in the winemaking style, this light, fragrant and slightly savoury Pinot that would fool many an expert that it originated in the northern hemisphere.
'Lost and Found'. It rather sums up what The Liberator is all about.