Episode 7 – Swartland Evolution


Technical Information:
Producer:
Vergelegen
The Wine:
65% Cinsault
35% Cabernet Sauvignon
Vintage:
2014
Wine of Origin:
Swartland
Alcohol:
13.5%
Bottles:
583 cases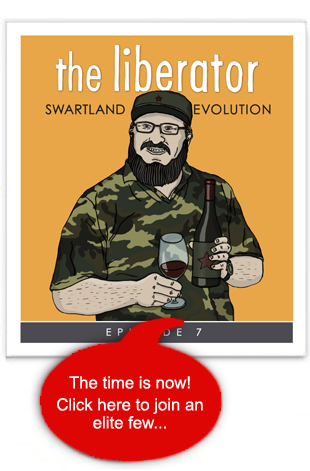 Now, here's a wine that's never likely to be poured at the annual Swartland Revolution.
Rick couldn't quite believe his eyes when his old mate, Andre van Rensburg, pulled out a bottle of his interpretation of an original 'Cape Blend' produced from grapes acquired from the Swartland.
For those who follow the latest skinner in the Winelands, it is widely known that Andre is a fully paid up member of the Stellenbosch Wine Route; a man who fails to acknowledge the presence of any other region, local or international. His recent comments concerning the amount of exposure the boys in Swartland are currently enjoying was widely reported, although greatly exaggerated.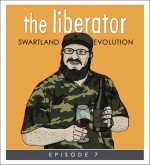 Regardless, this has not endeared him to the Swartland community and it's the reason why Andre has to arrive at the annual Swartland Revolution in disguise, but when it comes to totalitarian, liberating dictators, Fidel Castro might have learnt a lot from our winemaking protagonist.
Each year, Andre enjoys playing around with an 'experimental' budget bestowed on him by the men-in-suits at Vergelegen. This year, he invested a fair amount of his 'pocket-money' in sourcing some grapes from an old grower in the Swartland to show, in AvR's own words, 'How to teach those guys how to make wine'. *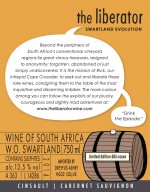 Yet, instead of doing the obvious thing and sourcing some 'Mediterranean' red varieties – which are now so closely associated with the Swartland – our man in the camouflage suit took a different approach. Looking to emulate those great red blends of the 1940s and 1950s, Andre made a point of tracking down some old Cinsault and Cabernet Sauvignon grapes instead.
As a grape variety, Cinsault fell out of favour in South Africa during the 1960s but has since been re-discovered by the New-Wave generation of winemakers. The cultivar has not played any prominent role in quality winemaking since and has been grubbed up more than replanted. The net result is that any Cinsault vine in the Cape is invariably an old vine. And, whilst Cabernet (Sauvignon) might still be riding the height of the popular wave, the cultivar is completely eschewed by members of the Swartland Independent movement, with no mention of King Cabernet in their manifesto. **
So, with his point made, the big man now has to find a home for the wine. Usually, Andre's 'experiments' find their way down the mountain and into the restaurants and tasting room on the Vergelegen estate, but this was quite a big experiment, so Rick was delighted when he was presented with the opportunity to liberate it.
Could this be the Caped Crusader's greatest coup to date…?
*****
* EDITOR NOTE: Certain expletives were deleted here for fear of causing those more sensitive Liberator followers any offence.
** More details on the 'values' of the Swartland Independent movement can be found via the link here: http://www.swartlandindependent.co.za/values/ 
Afrikaans Lesson #34:
Oke: A bloke. As in: 'Who the hell does that oke think he is – Andre van Rensburg…?'
Afrikaans Lesson #32:
Skinner is the Afrikaans word for gossip or hot news.