Episode 4 – The Pie Chart


Technical Information:
Producer:
Tokara
The Wine:
65% Sauvignon Blanc
35% Semillon
Vintage:
2011
Wine of Origin:
Stellenbosch
Alcohol:
14%
Bottles:
4,959 bottles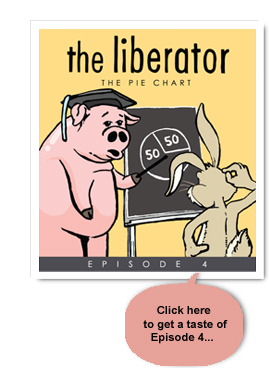 .Just for the record, Rick's working title for Episode Four was to be The fifty-fifty blend, but the nice people at SAWIS (South African Wine Industry Information and Systems), who administer the official Wine of Origin scheme, understandably denied him its use on the basis that, well, it isn't…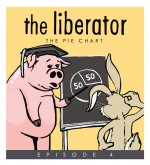 Its inspiration comes from a conversation Rick once had with that long-standing stalwart of the Cape's wine industry, Duimpie Bailey, one-time God (that's Group Operations Director to you and me) of what used to be knows as Stellenbosch Farmers Winery; South Africa's largest wine and spirit company.
It is, without doubt, the funniest tale ever told.
Our story revolves around the art of creative blending, a required skill that is conducted within the hallowed confines of the winemakers laboratory. Behind closed doors and often well into the hours of darkness, generations of vignerons have toiled, pipettes and measuring jugs in their trembling hands, desperately seeking to fuse together the best possible blend from the component parts available to them; a splash of this, a soupçon of that…. Then, after many hours of careful solitary contemplation, intense tasting and re-tasting, the winemaker is finally content with the assemblage.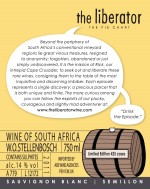 It's miraculous to realise that regardless of the end decision, the total percentage of these many components always appears to add up to one hundred…
Episode Four was liberated from the cellars of Tokara, one of the Cape's two best exponents of white Bordeaux blends, with the two previous releases both being lauded with a 'Five Star' rating in Platter's Guide to South African Wines. The Pie Chart was siphoned off from some seventeen barrels that didn't quite make the grade for the Grand Vin.
Fermented and aged for a total of fifteen months in oak barrels, of which around 20% are new, the two varieties were vinified apart. The Sauvignon Blanc was accommodated in larger 400 litre casks, whilst the Semillon was committed to traditional 225 litre barriques. There is no malolactic fermentation conducted on the Sauvignon, whilst the Semillon is partial. The wines were blended after ten months of élevage, after which the two varieties were allowed to meld for a further seven months in wood. The wine was bottled in July 2012. History suggests that The Pie Chart will only continue to develop and improve over the next five years and should be capable of lasting for at least rest of this decade..
Afrikaans Lesson #72:
Padkos – As featured in the comic strip. It literally means 'road food' most likely procured from some road-side farm stall, usually in the middle of nowhere. Joostenberg, just outside of Stellenbosch is one of the best examples. That's where Christophe, our French protagonist, is to be found, toiling behind his range…
Useful Links:
www.joostenberg.com
www.tokara.co.za