Exclusive to Lay & Wheeler
Come to Sauvignon Country.


Technical Information:
Producer:
Miles Mossop
The Wine:
85% Sauvignon
15% Semillon
Vintage:
2019
Wine of Origin:
Stellenbosch
Alcohol:
13%
Bottles:
2,100 bottles
Released:
August 2020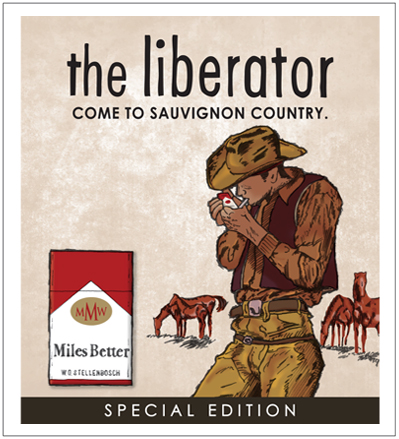 Meet Miles, the Marlboro Man…
It was hard not to be exposed to the expansive tobacco advertising campaign which ran from the mid-1950s until the end of the last century. The Marlboro Man initially was portrayed as rugged men in a variety of roles. He evolved over the years to feature as cowboys pictured in wild terrain, with slogans such as 'Come to Marlboro Country', promising any ordinary guy the prospect of transforming himself into (or at least associating himself with) 'macho' men. Satirical references to the advertisements even made it into popular culture with The Rolling Stones (in Satisfaction) and Neil Young (Big Green Country).
Over the hill in the big green country
That's the place where the cancer cowboy rides
Pure as the driven snow before it got him…
Comparisons to a certain wine producing region on the northern tip of New Zealand's South Island are easy to draw. Since, 'real men' apparently, like their lager to taste of nothing, but their wine of choice is a caricature of Sauvignon Blanc: vulgar and brutish. Cat's Pee on a Gooseberry Bush. Indeed. Rick says every bottle should come with its own health warning…
***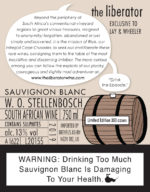 Welcome to Sauvignon Country is 85% Sauvignon Blanc blended, before bottling, with 15% of Semillon.  The wine carries a Stellenbosch Wine of Origin sourced from two relatively cool climate sites; the Sauvignon from a friend of Miles's vineyard in the Banhoek Valley at 450 metres above sea level, whilst the Semillon is from Tokara, which sits at the foot of the Simonsberg Mountain at 400 metres.
Both barrel-fermented, this is a classic Bordeaux combination and, not many people know this, the original makeup of the early vintages of Cloudy Bay also contained some Semillon and were also partially fermented in barrel.
The Sauvignon was whole bunch pressed and fermented with indigenous yeast. Both wines spent 15 months in wood before bottling. For the real wine geeks, the Sauvignon saw no new wood, with the Semillon enjoying 50% new French oak.
If you can resist drinking it all within the first year, Rick believes this will develop and evolve further over the next decade.
How do you like The Liberator's strap line for the wine…?
'Come to Mossop Country. It's Miles better…'