A HarperWells Exclusive
Haywire


Technical Information:
Producer:
Solms Delta
The Wine:
37% Grenache
28% Shiraz
27% Mourvèdre
8% Cinsaut
Vintage:
2012
Wine of Origin:
Western Cape
Alcohol:
14.5%
Bottles:
510 bottles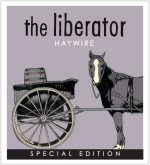 Haywire… adjective: out of control, erratic, faulty, malfunctioning, out of order, chaotic, confused, disorganised, disordered, on the blink, up the spout, 'putting the cart before the horse '…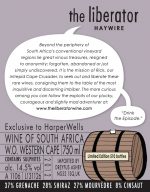 Sound like anyone you know…? It's certainly not Rick who is the antithesis of all of this. Cool, calm and collected. Well, he was until he had an audience with the 'Bishop' of Norwich…
Neither does Haywire describe this wine. It's calculated, well thought-through blend utilising southern French varieties in a distinctly South African setting and aged in older oak for 14 months before bottling and at just 510 bottles produced, it is The Liberator's most confidential release to date.
Afrikaans Lesson #189:
Om die wa voor die perd te span: It's a common saying in Afrikaans too…