Exclusive to Berry Bros & Rudd
The Grape Escape


Technical Information:
Producer:
DeMorgenzon
The Wine:
62% Sauvignon Blanc
28% Semillon
10% Chenin Blanc
Vintage:
2015
Wine of Origin:
Stellenbosch
Alcohol:
13.5%
Bottles:
462 cases

Hours ago… minutes ago… these men were behind barbed wire.
Rick has always loved the concept of making a 'bootleg' wine; liberating grapes from one of the world's greatest vineyard sites and satisfying his curiosity as to whether he could vinify something comparable to the official article. Perhaps even better. Not, of course, that he would ever consider hatching the plan for real. It's just something that occasionally occupies his inquisitive mind. Regardless, Rick was somewhat flattered to be invited by the Queen's own wine merchant to liberate an exclusive parcel.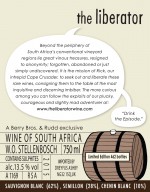 As for the characters on the label, could this be a literal homage to the George Jnr and Henry – the original berry brothers, perhaps? Or, in a different age, it might reasonably have been Byron and Brummel, both historic clients of Britain's oldest wine purveyor, escaping early 19th Century England. Being something of a dandy himself, Rick has always admired Beau Brummel's recommendation for polishing boots with Champagne. And, despite the title, it was never meant to be an illiterate reference to McQueen and Attenborough. 'Put a fence in front of these men and they'll climb it'…
Rick will just leave you guessing.
As for the wine itself, the (legitimately) sourced grapes come from a very respectable address in Stellenbosch, with each variety visually identified on the label: the verdant appearance of the Sauvignon Blanc, hung next to the compact, golden berries of Semillon. The generous, juicy Chenin brings up the rear which, despite its minor role in the blend, offers a striding linearity.
At just 462 bottles, The Grape Escape is Rick's most limited 'Special Edition' to date.