Episode 29 – Chenin N°5


Technical Information:
| | |
| --- | --- |
| Producer: | Confidential |
| The Wine: | Chenin Blanc |
| Vintage: | 2019 |
| Wine of Origin: | Western Cape |
| Alcohol: | 13% |
| Bottles: | 1,660 cases |
| Released: | September 2020 |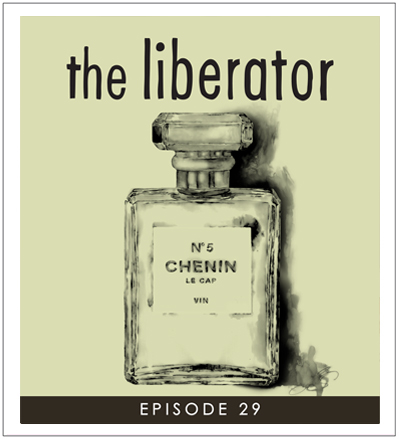 Rick was once asked by an adoring fan what he drinks in bed. Immediately paraphrasing the famous Marilyn Monroe quote, he replied: 'Chenin N°5…'
Episode 29 represents the 5th ever Chenin Blanc released by The Liberator (and there you were thinking this was a blatant and cynical reference to a famous perfume). It also happens to be the single largest Liberator 'Episode' release to date.
Anyone who has gained an audience with Rick will already be convinced that Chenin Blanc is, in fact, the world's greatest grape variety. For the past 25-odd years, it's been Rick's Mission from God to preach this gospel to South Africa's winemakers, to ensure they recognise the value of their old vine Chenin; a vinous resource just as precious as gold and diamonds are to the rest of the country.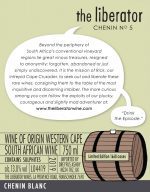 For those commentator's content to view South African Chenin Blanc as the primary source of industrial quantities of sub-standard, supermarket promotional fodder, think again. It might well remain South Africa's most widely planted grape variety and a reason why it should be celebrated and not dismissed. This is no facile example. It is a wine that is designed to demonstrate what can be achieved with a little bit of care and attention in both the vineyard and the cellar.
Chenin N°5 comes from a very good address in the Cape, but Rick is sworn to secrecy as to the actual source. If our Cape Crusader were to divulge its origin, he would probably then have to kill you.
The wine comes from the generous, post-drought 2019 vintage and was destined to be part of a new project which failed to materialise and ultimately was considered surplus to requirements.
Delicious now, it could be expected to evolve and gain additional complexity over the next two to three years.
See also: Chenin No. 5 (aka Rick in a Tin)